Timberwolves Final Review: Running with the Pack
Minnesota, the land of 10,000 lakes (11,842 to be precise), landowner of the Mall of America, the stomping grounds of the Vikings and Twins, the birthplace of Tonka Trucks, and home to the 5 time NBA champion Minneapolis Lakers.
That last part is easy to forget, or to never have known. Minneapolis is the foundation of the basketball dynasty that produced 16 NBA championship teams, rosters to include 23 Hall of Fame players, benches with 5 Hall of Fame coaches (4 head, 1 assistant), and a stadium with the names Chamberlain, Johnson, Goodrich, Worthy, West, Wilkes, Abdul-Jabbar, Baylor, O'Neal and, in the very near future, Bryant hanging in the rafters.
placeholder
In 1960, the Minneapolis Lakers relocated to Los Angeles, and the state of Minnesota didn't see a professional basketball game within its state lines until 1989. Along with the Magic, Hornets, and Heat, the Timberwolves became an NBA expansion team.
Lone Wolves: A Tale of Two Kevins
Kevin 1.0: The expansion started off rough for the Pack. From 1989-1996, the Wolves won only 152 games (Golden State won 140 games in the last 2 full seasons). But in the 1995 draft, the Timberwolves grabbed Kevin Garnett with the 5th overall pick. Drafting Kevin Garnett drastically changed the outlook of the Timberwolves. Minnesota proceeded to make the playoffs seven straight years (1998-2004), culminating in 2004, with an MVP award for Garnett and a loss in the WCF to the Lakers.
placeholder
Trade speculation surrounding Garnett started to circulate at the end of the 2005 season. Most of the rumors focused on a move to Phoenix, as Garnett had grown close to the Suns' two time MVP point guard, Steve Nash. Sadly, what would have been the first big three of Nash, Stoudemire and Garnett never came to fruition. In 2007, the Wolves made the largest trade for a single player in NBA history. In exchange for sending Kevin Garnett to the Boston Celtics, Minnesota received Al Jefferson, Ryan Gomes, Sebastian Telfair, Gerald Green, Theo Ratliff, money, Boston's 2009 draft pick (was projected to be a top 3 pick, turned out to be the 28th overall pick: Wayne Ellington) and a return of Minnesota's 2009 first round pick (Jonny Flynn) which Boston had accrued in 2006. This is also the draft where the Timberwolves drafted the rights to Ricky Rubio. Since Garnett's departure the Wolves have not returned to the postseason.
Kevin 2.0: In the 2008 NBA draft, the Timberwolves drafted O. J. Mayo third overall. The USC star never played a game for Minnesota. At the end of the draft, the Timberwolves traded Mayo, Antoine Walker, Greg Buckner, and Marko Jarić to the Memphis Grizzlies in exchange for fifth overall pick Kevin Love, Mike Miller, Jason Collins, and Brian Cardinal.
placeholder
While playing for Minnesota, Kevin Love ended up being the first player in almost 30 years to record a 30 point and 30 rebound game, made 2 All-Star appearances and led the league in rebounding in 2011-2012 season. However, Minnesota never made a playoff appearance during Love's tenure.
The Alpha Dog and his Rookies
Kevin Love's career in Minnesota came to an end when LeBron James got his way, as he normally does, and pried Love away to join his future NBA Champion Cavaliers. In return, the Wolves received Anthony Bennett, Thaddeus Young, a trade exception, and most importantly, Andrew Wiggins.
Wiggins was the linchpin of the trade. Minnesota made it absolutely clear there was no trade without Wiggins in the mix. Cleveland made every attempt to keep Wiggins in trade negotiations with Minnesota, but when LeBron forgot to add Wiggins' name in with the players he was looking forward to playing alongside in Cleveland, the writing was on the wall for Andrew.
Wiggins immediately had an impact on the court for the Pack. In his rookie season, Wiggins started all 82 games, averaging 16.9 points, 4.6 rebounds, 2.1 assists and 1 steal per game, while snagging Rookie of the Year honors. The Wolves were also able to draft Zach LaVine 13th overall, and he showed signs of forming a powerful combo with Wiggins on the court. While Wiggins was doing everything he could to win games, the Timberwolves ended with a 16-66 record.
That terrible record led to the biggest addition for the Wolves since the Kevins. With the first overall pick in the 2015 draft, the Pack added Karl-Anthony Towns. Towns started in all 82 games his first season, putting up outrageous rookie numbers: 18.3 points, 10.5 rebounds, 2 assists and 1.7 blocks per game. He won Rookie of the Year unanimously. His rookie season was however, marred by the loss of the only coach to lead Minnesota to the playoffs, Flip Saunders, who succumb to Hodgkin's Lymphoma.
placeholder
During the 2015-16 off-season, an incredible number of reports linked a plethora of coaches to the open Timberwolves position. With a tenacious defensive point guard, a high flying two guard who can drain open threes, and two back to back Rookies of the Year, it is easy to see why coaches were foaming at the mouth for the chance to lead the Pack. In the end, the most coveted coach picked the most coveted position. On April 20th, 2016, Tom Thibodeau agreed to be the alpha dog in Minnesota, becoming both Head Coach and President of Basketball Operations.
PLACEHOLDER
Current Team
With Thibodeau at the helm, the Wolves currently sit 13th in the Western Conference with a 31-49 record (only 2 more wins than their mark last year of 29-53) with 2 games left to play. The loss of Pekovic at the start of the season and LaVine in February, has left a question mark about the abilities of this team at full strength, but overall this has to be a let down for the fans in Minnesota.
The issue that immediately slaps the viewer in the face is Minnesota's consistent ability to be completely destroyed in the second half of games. In the second half the Timberwolves have a -9.7 net rating at home and a -3.7 net rating on the road. In contrast, the first half of games are significantly better with a 9.4 net rating at home and a 0.5 net rating on the road. In watching a great deal of Minnesota games since the All-Star break, the cause of this discrepancy is tough to nail down. It honestly appears a fatigue issue, both physical and mental. Towns and Wiggins rank 1st and 3rd, respectively, for total minutes this season, with LaVine looking like he was going to be in the top 5 before his knee injury. Even on young bodies, that much playing time can create serious lethargy.
As Thibs is known for being a defensive minded coach, the Pack's current defensive ranking of 108.9, 27th in the Association, is probably the reason Tom is always barking mad. While there some excellent individual defenders on the team, as outlined in our previous reviews, the team as a whole lacks a consistent defensive identity.
On offense, the Wolves have a bit more identity, but the question remains if that identity actually works. Their plays are straightforward and relatively easy for the young players to run, but they are also easy to see coming. With Rubio's increase in offensive efficiency (11 assists per game with a TS% of 54.1) since the All-Star break, the Towns and Rubio high pick and roll should be something they run until the opposing defense stops them.
placeholder
The KAT Man
If you blindly threw a dart at a list of all the current NBA teams, you would have ⅔ chance to hit a team with a Kentucky player on the roster. Karl-Anthony Towns appears to be the next in a growing line of immensely talented big men coached by Calipari (Davis, Cousins, Patterson, Randle, Kanter, Noel, etc). Towns' stats this season have increased across the board, with him even shooting over 36% from three. He probably got snubbed not being on the All Star team, but the All Star voting is currently a joke and holds little relevance to overall stats and abilities of NBA players.
While Towns is an incredible talent, he has a few areas of weakness that should be the focal point of his off season. Towns needs to get into a gym and lift, hard. He gets pushed around on both ends of the court far too often by less skilled big men. He should however, be the focal point of this team going forward. My only real question is if he should remain at the center position. Although he might not be quick enough to guard opposing power forwards, it does put an end to his need to get stronger.
The Pride of Canada
Andrew Wiggins is a conundrum to me. I watched most of his games at Kansas and was blown away. His defense was outstanding. He blew by opponents left and right. He made reads that didn't completely rely on his outrageous athleticism and were way beyond his years. There were times when he disappeared from games, but I mostly attributed that to being 18 years old and on a national stage.
Jumping to today, I am worried for his continued play in the NBA. I imagine he will remain a 20 point scorer for most of his career, and his defense is still salvageable. Although even in the 5 Timberwolves games we covered on this website, he looked like a liability on many defensive possessions. He is capable of eye-popping highlight reels and has a silky smooth jumper. However, his out of control moves attacking the basket, streaky scoring and defending, along with his reluctance to take defenders off the dribble into any shot other than a mid-range pull up, should concern everyone in Minnesota.
Via Ian Levy, the following graph, generated earlier this season, sums up my worries: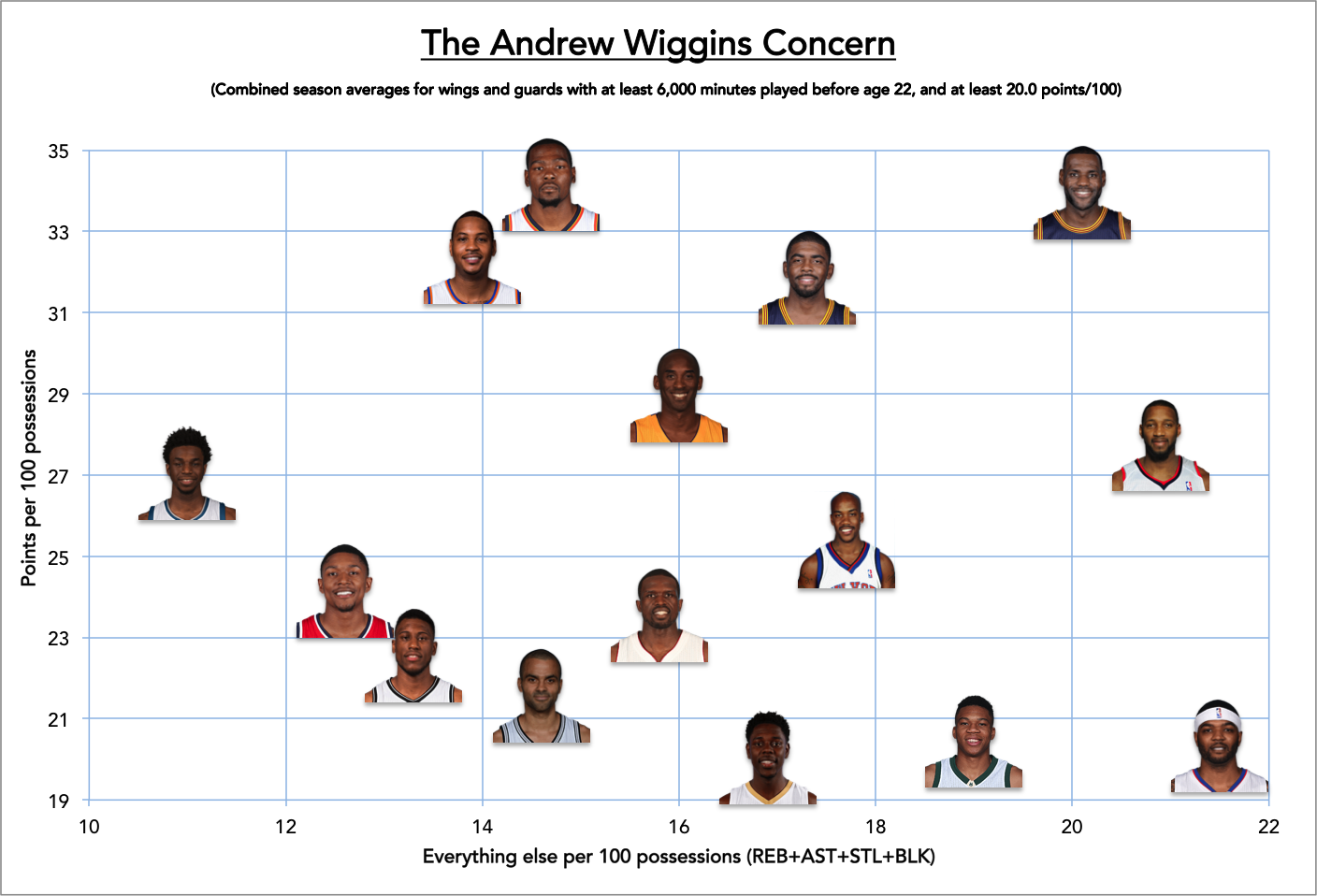 Wiggins is in the upper-middle of the road for points per game, almost even with T-Mac, but he is lightyears behind on everything else. Not even counting his breakout season this year, Bradley Beal is a better all around player before the age of 22, than Andrew Wiggins.
RRRRicky RRRRRubio
I knew I liked Rubio before this review. I think I viewed him as a poor man's 2009-2010 Rondo. But after watching the Timberwolves during this review, I am sold on Rubio as one of the best two-way point guards. His defense is incredibly smart. He is not faster or stronger than most of his opponents, he out thinks them and beats them to the move they are attempting.
On offense, Rubio needs to be the set up man. Rubio still lacks shot creation and shot consistency, which can hinder the offense in the half court, as it allows other players to pressure him tightly on the catch, sag off when he makes a move, and go underneath screens set for him. This can be overcome through use of the high PNR action with Towns referenced earlier. Rubio also needs to be the leader of this team. His willingness to be vocal should be seen/heard all the time, rather than just in instances where he is frustrated or upset at teammates and officials.
Flight School
Other than watching his dunk competition throw downs, Zach LaVine can feel like an afterthought on this team, but he was close to averaging 20 points a game for the Wolves as the third offensive option. His points per game have increased by about 4 every season and he was shooting nearly 39% from three this season. My concern for LaVine is his defense. The pair of Wiggins and LaVine as starting defenders for this team is a huge problem. Both are athletic freaks, but neither appears able to keep his man in front of him for more than a few seconds on defense, and both have instances of looking completely lost in some defensive sets. Going forward, there is some talk of LaVine being the 6th man for this team. It is an interesting idea, but would require the Wolves find a better starter this off-season.
The Rest of the Pack
Gorgui Dieng, Kris Dunn, Tyus Jones, Brandon Rush and Shabazz Muhammad (from order of most important to least important) round out most of the minutes for the Pack. Rush and Muhammad feel completely replaceable, with Rush being the better of the two options to keep going forward, specifically because his contract should stay around 3 million dollars (or less).
Kris Dunn is a defensive powerhouse. His raw offense and poor shooting should be a focal point of the coaching staff this off-season, but his impact on defense is second to only Rubio on this this team. Tyus Jones is definitely a quality player and his chemistry with Dunn is palpable. I like the idea of keeping three point guards on any team, so I would be inclined to sign him down the line, especially if he can become a truly dependable shooter.
Gorgui Dieng is the hardest of these players for me to assess. I think he is a fringe starter in the NBA. His defense is average, as is his offensive efficiency. His three point percentage is 38% for the season, but he is only taking 1 three every two games. I think Dieng's contract is a bit inflated, but not Asik or Noah terrible. If Minnesota can somehow manage to sign or draft a better 4 in the off-season, and sign a good defensive minded 2 guard, Dieng is great. A bench unit of Tyus, Dunn, Dieng and LaVine is rather formidable.
Off-season
Let's start with contracts for the Wolves. Wiggins is a RFA come 2018, as is Zach LaVine. On lesser notes, Bjelica and Jordan Hill are also on that time table. Towns has to stay through 2018 before he can enter the restricted rookie scale market. Rubio, Tyus Jones and Cole Aldrich all have 3 years left on their contracts. Dieng is signed through 2020. Shabazz is an RFA this year, with Rush, Casspi and Payne all being UFAs this off-season. That leaves only the sad situation of Pekovic, which no one can really forecast at the moment, but I would predict he doesn't play in the NBA again. The Wolves have 6 rookie contracts and Bird Rights for Rubio and Pekovic. This leaves the Wolves, if Pekovic cannot play, 22 million dollars in cap room next season, 10 million if he does play.
Without going too far into the draft, I think the Wolves should go after Jonathan Isaac (if by chance he is still available) or Lauri Markkanen (who should be available). Both fill rolls needed for the Pack, specifically the shooting Markkanen brings at the 4 position.
After the draft provides some clarity, the Wolves should make a hard push for one the following 2017 Free Agents (in order or importance): James Johnson, Serge Ibaka, Ian Clark or Patrick Patterson. Additionally, the Wolves could manage a trade on draft day that could include their current pick and a couple players, i.e. Bjelica, Hill, or Aldrich.
Final Thoughts
It is relatively safe to say Towns will be a perennial All Star, Wiggins a reliable scorer (possibly much more) and Rubio the maestro on both ends of the court. The talent and pieces to win, in the near future, are present in Minnesota. The question remains: Can they put all the pieces together?
The mark of a well run organization in the NBA, is gaining a playoff birth season after season. The Spurs have been in the postseason every year since 1997, the Hawks since 2008 and the Grizzlies since 2011. The Timberwolves will not have a postseason for the 13th straight year. There are many reasons for this type of continuity, or lack thereof, but what you will hear continuously from players and coaches is one word: culture.
Tom Thibodeau is the key to this word, culture. He is the Alpha Dog of this Pack, as he very specifically asked to be when taking on both the Head Coach and President of Basketball Operations roles for Minnesota. Thibs is a loud, brash, even sometimes frightening figure on the sidelines. He pushes his players harder than any other coach. He has shown can glean ability, consistency and fortitude from his players through this method. But that may not be enough.
In watching the currently elite teams, Cleveland, Boston, Golden State, San Antonio, while there are many instances of harsh words between players and coaches, tough losses at home, struggles off the court, there is still a sense of fun while PLAYING A GAME for a living. Stephen Curry loses his mind with the crowd after a 28 foot three off the dribble. LeBron holds back teammates on the bench after watching Kyrie break down an entire team's defense with a set of dribbles that only Uncle Drew could imagine into existence. Jae Crowder bear hugs IT after a 20 point 4th quarter. Kawhi Leonard and Gregg Popovich may even, dare I say it, share a smile. Thibs is lacking this part of the culture required to create a team that plays for each other and wins for each other.
In the wild, wolves are highly social animals that live in packs. They live in these packs for their entire lives. The packs are extended families for the canines. They roam together, hunt together, eat together and play together. If the Timberwolves want to create a culture of winning in Minnesota, maybe all they need to do is look to their namesakes.
---
Michael Fawaz
michael@dimetheoryhoops.com